It's mad how the lockdown changes your perspective so quickly. Usually I travel around 12 weeks per year for my work and rarely spend a full month in the UK; my main hobby besides sewing is exploring the places I'm lucky enough to visit for work and researching what to see and do.
Last week the most exotic trip I took was to the Tesco on Park Road and it was exciting. I hadn't been to this Tesco in ages as it's a bit out the way for me but when looking for a new route to walk we decided to go via there to pick up the essentials. Walking in I was agog. In the big Tesco they have clothes! Pyjamas! Books, electronics and magazines! My boyfriend left me to browse the craft section for a bit where I found this month's Burda magazine.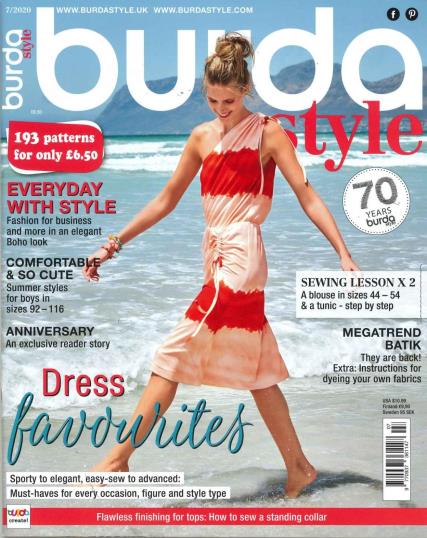 I've seen these before in charity shops but never really engaged having been put off by the huge pattern sheets; I usually print off my PDF's or buy the pattern. However with no access to a printer at home and plenty of spare time for a challenge I figured why not, and the patterns this month look lovely!
The idea with Burda patterns is to trace over the lines on the pattern sheet, then add seam allowances. To do this I used normal baking paper (taped together in parts) and pencil to trace and cut out the pieces. For my toile I just cut around the pieces with a 1.5cm seam allowance but for the main garment I transferred the pattern pieces with allowance to card.
I chose the 'Hepburn' style dress fro this issue which is intended for a heavier material such as a jacquard, but I imagined it in a lighter fabric like this gingham I picked up in my panic-buy at Abakhan before they shut the store. I didn't think it would work with a panelled skirt so just used the pattern pieces from my recent Liberty dress to create a gathered skirt.
Some people say that the Burda instructions are too vague, as they're all jammed together with no pictures just the literal instructions. However for an intermediate sewer, especially on a relatively simple garment like this I think the instructions are fine provided you go slow and read them a couple of times before starting.
I'm really pleased with this dress and especially love the shoulder ties which I'll borrow for another garment in future for sure. As usual I have issues with the neckline as I have SUCH a hollow upper chest, grr! As the finished dress is lighter than my toile fabric the gape is more noticeable so I will have to unpick the side seams and take them in by a cm or so to reduce the gape. I am always looking for easy, plain talking explanations of how to solve my eternal chest fitting issue so any recommendations are welcome!
I enjoyed this make and look forward to trying more from this Burda issue. Thanks for reading and happy sewing!