Sometimes you successfully hack a pattern, and sometimes you make a complete hack of it. Such was my experience of playing with the Ogden cami pattern this weekend.
I had the insta-perfect idea of making a cute ruffle bottom Ogden hack in the half a metre of gingham I had left from my Burda Hepburn dress. I could visualize it perfectly which often is the problem; if you have too clear an idea of exactly how a make will turn out, you're often completely frozen when it goes off piste.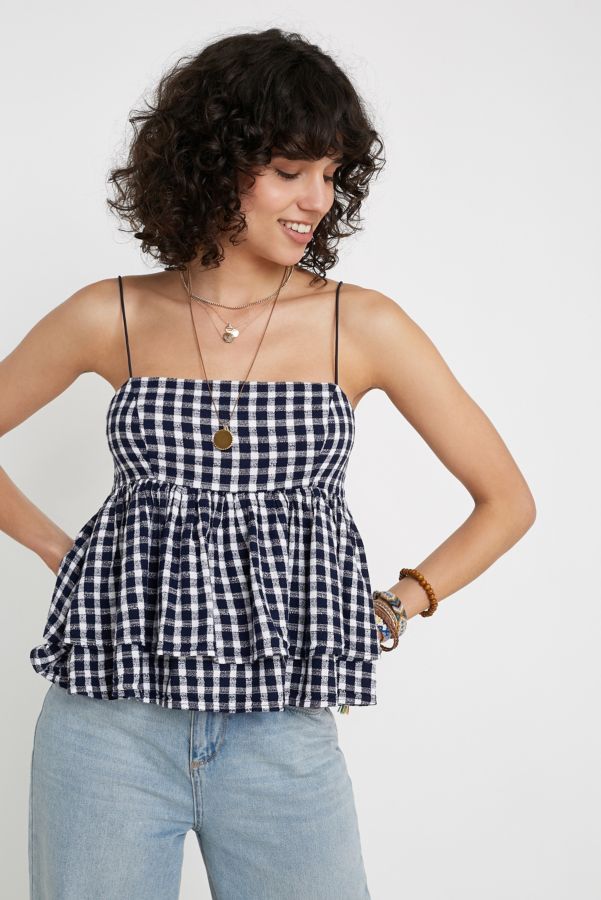 To make the top I cut the top half at the shorten/lengthen line on the pattern. For the ruffle I measured the rest of the length of the original piece, added seam allowance then cut it to double the width of the top. After gathering the ruffles and joining them to the pattern pieces, I finished the rest of the pattern as normal.
One of the great things about this make was discovering the use of a thicker, sort of waxed thread that I have in my stash. A friend's grandmother passed away a few years ago, she was an embroidery teacher and with no one else in the family into sewing a lot of her gorgeous collection was very kindly given to me including this Mystery Super Tough Thread, that I imagine would be useful in jewellery or even thread crochet. I have always struggled with gathering as the top thread seems to break too easily so I had the brainwave to test this on my machine – it's brilliant. The thread being so strong it doesn't break and holds a really lovely, even gather. I'm sure this isn't its original intention but if you can get your hands on some strong cord like thread, you'll see the world through a lens of potential ruffles.
Unfortunately the rest of the make wasn't as successful. My chronicles of a hollow chest continue to haunt me – the top fits around the waist, hips and shoulders but is too tight and therefore gapey around the chest. I also had to chop off about a third of the sides initially as it was far too floaty and even my partner had to admit I looked like I was wearing a mini moo moo.
I've made one Ogden before, excited about the hype around this pattern but it's stayed in my stash since the toile. For me it felt too tight around the chest, something I conveniently forgot when making this one.
There was therefore the dreaded gape at, as usual, just the one right side of my chest. To be honest at first I was really disappointed as I felt like I'd failed but then remembered; the whole point of sewing is to practise and find your shape and therefore style, and also, I have never suited babydolls in my life so have no idea why I thought I would now. However someone out there will; so if you benefit from this hack idea, go forth and prosper!