Welcome to this month's stop on the global sewing tour – Spain! One of my favourite countries, Spain in my opinion has it all. Gorgeous landscapes, delicious food, amazing culture and of course the FASHION.
Dressmaking in Spain, in my opinion, is perhaps not as mainstream as it is in the UK or France for example. Spain is a very crafty country and artisan crafts play a huge role in not only the culture but tourism as well – when I was a tour guide there, lace makers, jewellers and potteries were regular pitstops for us. There are also regular markets across most towns and cities in Spain – for example the Mercado de Motores in Madrid is a monthly craft market that features antiques as well as arts and crafts and of course El Rastro, one of the largest flea markets in Europe, is full of crafts and handmade items.
However when shopping for fabric and sewing patterns in Spain, you still tend to come across more traditional patterns and upholstery than perhaps the indie patterns and online stores we find in the UK. Crochet, on the other hand, is big business with lots of little yarn stores across the country, especially in Barcelona where yarn bombing is a regular occurence.
With that said, the sewing community in Spain is extremely active and producing some of the most gorgeous patterns and makes out there. A lot of Spanish styles feature classic silhouettes with a twist – maybe a dramatic sleeve or asymmetric hem, with bold colour blocking and the biggest sunglasses you can wear. On the other side of the style spectrum you'll find a lot of 'cute' designs – ditsy florals, neon colours and fun prints.
In this blog post I've tried to summarise an introduction to the world of sewing in Spain with 5 pattern makers, 5 sewers, 5 fabric stores and 5 hashtags to follow. If you know other makers in Spain – particularly BIPOC
5 patterns to sew
Honeycomb dress by CocoWawa Crafts
Ana is from Spain and writes bilingual English/Spanish sewing patterns over at CocoWawa crafts, which have become extremely popular thanks to their gorgeous styles and really helpful instructions.
One of my favourites is the Honeycomb dress which features ties at the waist and a lovely neck. Ana is offering an exclusive discount code on her patterns in this month's Modista newsletter, so sign up before the 31st to get your discounted pattern!
2. Jean Paul jumpsuit by Ready to Sew
Remember Ready to Sew from the French roundup? Their patterns are also available in Spanish! This is another of my favourite patterns of theirs, the Jean Paul Jumpsuit. This also has an optional add-on pattern you can purchase to add even more variations, one of my favourite things about Ready to Sew patterns.
3. Abrigo brunch by Nairamkitty
Marian offers sewalongs, sewing classes, packs and PDF patterns on her website. Her Youtube channel has over 200,000 followers and I really like this coat which can be made with scuba/neoprene material!
4. Lliria dress by Pauline Alice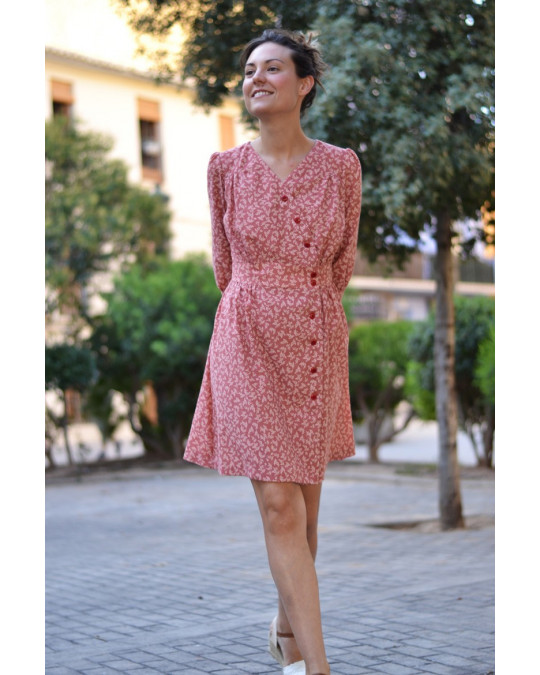 The Lliria dress is one of my favourites at the moment and the only thing stopping me buying it is a self imposed ban on button down dresses which has gotten out of hand. Pauline is French but lives in Spain and her patterns are influenced by her life there.
5. Midi Ribbon Skirt by Making Patterns Fly
How gorgeous is this Midi ribbon skirt by Making Patterns Fly? I love the tie back detail and elasticated waist – I think it's a really unusual skirt. Another bilingual pattern, this is available in Spanish and English.
5 sewists to follow
Saralias Sew
Sara makes beautiful garments but one make that caught my eye was this recent sanitary set – how can reusable sanitary towels be so cute? I never thought I'd plan these as gifts but these will be getting made up at Christmas…
2. Thirteen Buttons
Sara lives in Spain and is sharing her sewing journey on instagram. She is not only a great sewist but a really lovely person – case in point, she recently made Tessuti aprons for her in-laws' florist business, how blooming nice of her!
3. BiHarixto
Much like the rest of the sewing world, DIY underwear and lingerie is really popular at the moment in Spain and BiHarixto has a real talent for it. Check her page for more.
4. Lazos y apertas
I really like Ana's style, both in sewing and on her feed. She recently tested the Megan Nielsen Opal pants and did a great job!
5. Lisakisch
Lisa is Canadian sewing in Spain and her photos often feature beautiful Spanish landscapes and accessories….swoon!
5 Spanish fabric stores
Lovely telas
Hard for me to choose just one from their grid – think unusual prints and soft cottons and a very satisfying insta feed
2. Tida Colores del Mundo
Based in El Escorial just outside Madrid, Tida Coly sells African fabrics, jewellery and more. I especially like the look of their Manjac fabrics which I haven't seen in the UK so far…
This fabric store ships from their base in Barcelona and has a mix of really beautiful florals and fun prints like this marine print – can you spot the tiny seahorses??
Slow Taller means 'slow workshop' and intends to offer all supplies you need for slow fashion. Again you'll find really bright and colourful prints here like this gorgeous french terry! They have also recently written a fab blog post on free kids wear patterns (a lot of them in English)
I lived in Spain on and off for 3 years, 6 months of it in Barcelona and I am kicking myself for not being into sewing when I was there so I could have visited Nunoya! This gorgeous store stocks a speciality range of Japanese fabrics including Nani Iro
5 hashtags to follow
#megustacoser – translates as 'I like to sew'
#costuraDIY = DIY fashion
#costuracreativa = creative sewing
#yocosomiropa = I make my clothes
#coseresmisuperpoder = sewing is my superpower
Gracias!
I hope you found this round up useful! Let me know – have you found any other Spanish sewists, patterns or more you'd like to see in Part 2 of this round up?
In the meantime if you want another glimpse into Spanish fashion, I found this blog post really interesting (and accurate). Hasta pronto!