This blog post contains affiliate links that are clearly marked. I have worked with some of these brands previously but not on the basis of this blog post – if they're on here, I really rate their products!
Normally, every month in the Modista newsletter I send an introduction to the sewing community in a different country. This month however with the festive season approaching I thought I'd share a round up of some fantastic sewing themed gift ideas from around the world – whether you're buying for the sewist in your life and haven't the faintest idea what to get them, or fancy treating yourself to something too! Hopefully these sewing gift ideas will inspire you and you'll get a great crafty gift while supporting an independent.
All the brands below are independents and where possible I've listed their direct website.
Fabric
An obvious choice; but fabric can actually be really personal and it's sometimes difficult to decide. If you're not sure what fabric they like, they'll never be disappointed with a voucher! If you've never bought fabric before, 2m is usually a good amount for a shirt or simple dress.
The Rag Shop, UK (15% discount in December for Modista subscribers) – deadstock fabrics and wonderful prints at great prices
Blackbird Fabrics, Canada one of the biggest names, fantastic range
Karta Batik, Netherlands – high quality Indonesian fabrics with percentage going to charity
Melanated Fabrics, USA – Mimi G's fabric store!
Selvedge and Bolts, UK –top high end designer fabrics
Pretty Mercerie, France –ditsy prints and quality wool
Buttons
Another guaranteed success present for a sewist, buttons are also really easy to post!
Pigeon Wishes, UK –gorgeous multicoloured buttons to brighten a make
Tabitha Sewer, USA – very popular sparkly buttons
Ethel and Joan,UK –a new small business of handmade buttons
Arrow Mountain, Australia –wooden buttons with unique designs
Atelier Brunette, France – their buttons match their very popular fabric range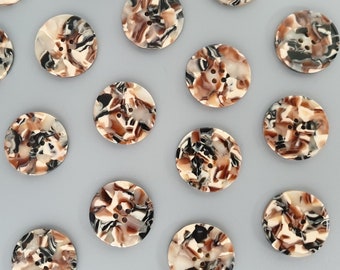 Labels
Of course, I had to include these! Labels are the finishing touch to any garment and again are really easy to post. They can be so fun!
La Petite Maison Couture, France –french phrases on lovely labels
Stitch Collective, USA –minimalist designs
Pink Coat Club, UK –fun designs with popular phrases. Also stocks fantastic stationery, pins and more
Modista Sewing (me!), Netherlands –french and plant themed
Patterns
If you can't post something to your sewing friend right now, or want a (very) easy last minute gift, a PDF sewing pattern is a great choice as all you need is their email address! Here's just a couple of very popular sewing patterns that are guaranteed a happy recipient:
Wilder Gown, Friday Pattern Company, USA
Dawn Jeans, Megan Nielsen Patterns, Australia
Indigo Dress, Tilly and the Buttons, UK
Sculthorpe Pants, Muna and Broad, Canada/New Zealand
Jolene Dress, Ready to Sew, France – 30% off for Modista subscribers!
The Fold Line, UK – the biggest online PDF pattern store, buy them a voucher from here and they'll be delighted!
Sewing themed gifts
You don't have to buy someone specifically used for sewing, but they'll really appreciate something that helps them shout their passion to the world! Jewellery, pin badges, bags, the list is endless.
Sew Dainty , UK – sewing themed jewellery
Crafty Pinup, UK – sewing labels, pin badges and more!
Love to Sew Podcast, Canada – the latest merch from our favourite podcast
Justine Gilbuena, USA – beautiful whimsical designs including sewing
This is for Makers, UK –stocking labels and most recently 'handmade' gift wrapping options
Books
Sewing books are a great edition to any sewist's collection, whether a specific pattern book or a 'how to' guide
Stretch! Tilly and the Buttons, UK – the Queen of Stretch shares her tips
Breaking the Pattern, Named Clothing, Finland –contemporary Scandi designs
Nani Iro Sewing Studio, Japan –Classic minimalist silhouettes from this iconic Japanese designer
Sewing Basics for Every Body, UK: create a capsule wardrobe for every body, gender and shape
Stationery
You might be surprised to know that stationery plays a big role in sewing and luckily there's lots of gorgeous options out there to personalise your sewing notes.
Pattern Trace, UK (10% off for Modista subscribers)
Alice & Co, UK – printable sewing planner
Rifle Paper Co, USA –beautiful prints popular in the sewing world
Dominique Major, UK –sewing themed posters and postcards
Sewing Kit
Especially wonderful during lockdown, a sewing kit comes with everything you need to make the garment and the fabric used by the brands below is top notch!
Made my Wardrobe, UK – The Greta Dungarees and Josie bra are gorgeous!
Stitched in Wonderland, UK – Their latest pattern the Dunga dress comes as a pack
Thimble and Snip, USA – something a little different, a hand sewing kit of some favourite sewing patterns
Lotte Martens, Belgium: Top quality French terry sewing boxes
Magazine Subscription
This is a GREAT present for any sewist – something they might not treat themselves to but will appreciate every month when a fabulous pattern comes out.
FibreMood, Belgium – click here for patterns and subscriptions (affiliate link)
La Maison Victor, France/Belgium/Netherlands
Seamwork – currently 50% off for unlimited membership!
I hope this blog post has given you some ideas for gifts for the sewist in your life this year! What's on your present list?